Fruit trees for the environment
A tree absorbs about one ton of carbon dioxide in its life time. Each and every tree counts, those around us as well as the newly planted. Whom do we better motivate when it comes to caring for the future than children?  This is a good reason for Futuro Valdivia to have a close cooperation with schools.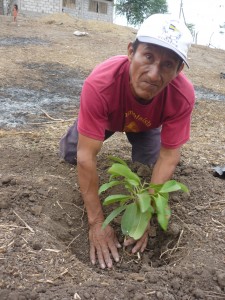 At the school in La Unión, a small village not far from Valdivia, "close to the end of the road", about an acre of land was available for "some sort of use" and in dialogue with our staff parents and teachers suggested trees be planted  there. Thanks to a donation from Ellwangen, Germany, Futuro Valdivia were able to deliver a 100 m irrigation hose and 15 different types of fruit trees, from avocado, cherry, mandarin, mango and orange to more "exotic" ones.
The 17 families with children at the school cleaned the land, burnt the weed, connected and installed the hose and planted the 51 trees, 3 per family, as planned, last week. If the trees are well kept Futuro Valdivia will donate more trees in 2013.
This is the fourth Futuro Valdivia project with a village school, pupils, parents and teachers, in an ambition to create awareness about the positive impact of trees on environment.
If you care for the environment you are welcome to support Futuro Valdivia!