Mobile surgery room / Mobil operationssal
The CINTERANDES FOUNDATION from Cuenca is performing surgery in its mobile operating theatre all over Ecuador.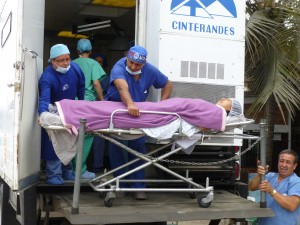 On December 5th operation # 7000 was performed. We congratulate Dr Edgar Rodas and his team for excellent performance. Futuro Valdivia are proud that our administrator Monika Steffel have coordinated no less than 1236 operations in our coastal area of the Santa Elena province, starting 1996.
STIFTELSEN CINTERANDES från Cuenca utför operationer in sin mobila operationssal i alla provinser i Ecuador.
Den 5 december gjordes operation # 7000 och vi gratulerar Dr Edgar Rodas och hans team till ett enastående program. Futuro Valdivia är stolta att kunna gratulera sin vårdansvariga Monika Steffel till att ha koordinerat inte mindre än 1236 operationer i vårt verksamhetsområde i Santa Elenaprovinsen på Stillahavskusten sedan 1996.