Andean Highland Activities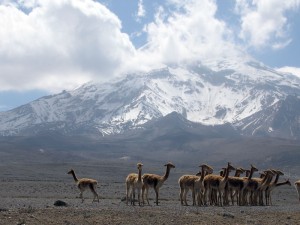 The Andean Highland is a magnificent setting for outdoor activities like biking, climbing mountains and volcanoes or trekking. Our starting point for such activities is the historic town of Riobamba at the foot of Chimborazo, a 6300 m / 19000 ft dormant volcano.
We offer activities for all skill levels, and our professional guides will be there all the time for advice and support. We provide the equipment needed for all our activities, and remember, the guide has the final word.
Discover the beautiful  Ecuadorean highland together with our professional team!
CLICK ON THE PROGRAM BELOW FOR DETAILED INFORMATION:
CHIMBORAZO DOWNHILL pdf – 1 day – bike
HIDDEN VALLEYS pdf – 1 day – bike
ALTAR CRATER LAKE pdf – 3 days – trekking
INCA TRAIL pdf – 3 days – trekking
LLAMA TRAIL pdf – 2 days – trekking
VOLCANO TRAIL pdf – 5 days – trekking
CARIHUAIRAZO pdf – 2 days – climbing – moderately difficult; acclimatization recommended
COTOPAXI pdf – 2 days – climbing – moderately difficult; good acclimatization recommended
CHIMBORAZO pdf – 2 days – climbing – difficult; previous glacier experience necessary
NORTH ILINIZA pdf – 2 days – climbing – moderately difficult; acclimatization recommended